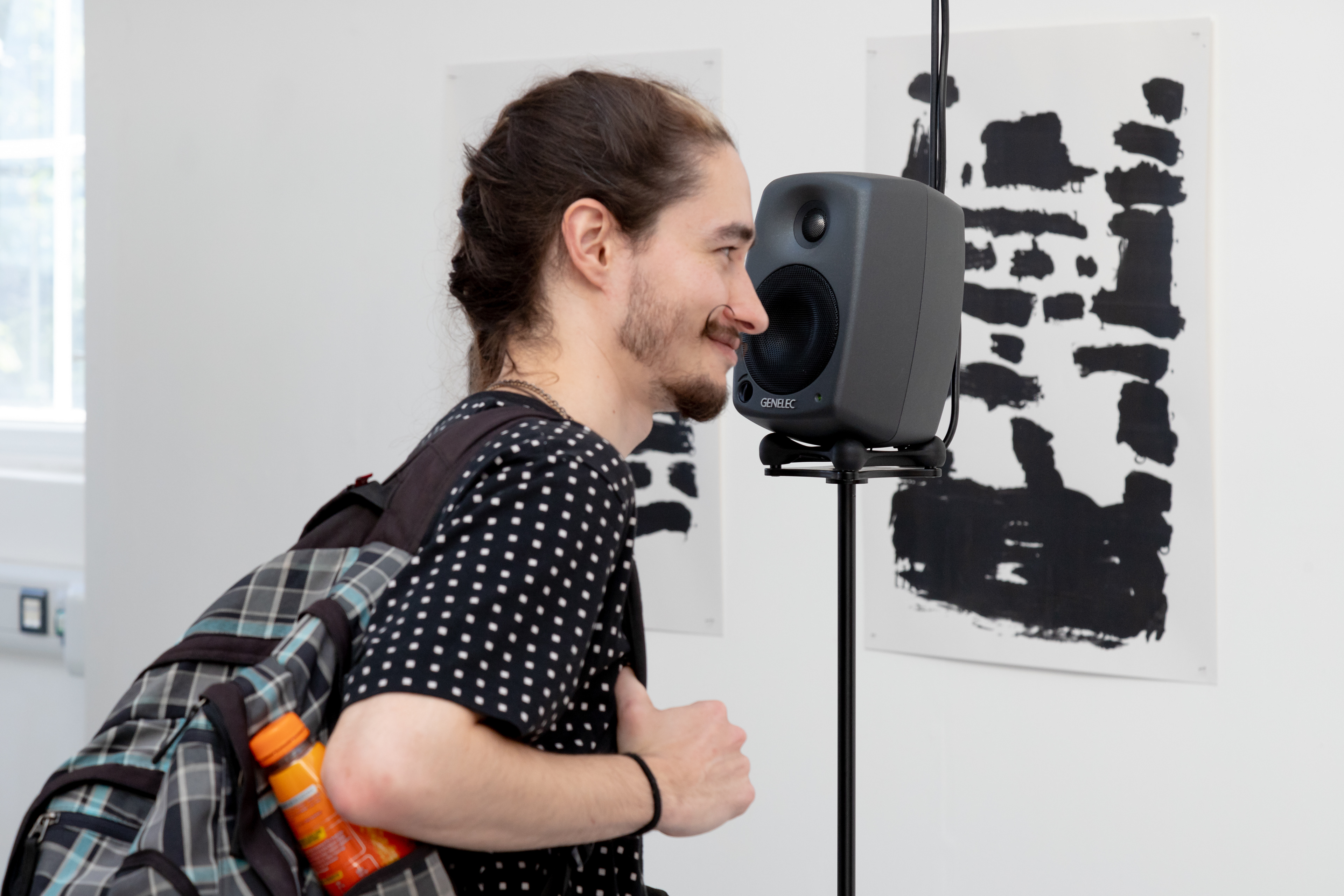 To remove the words from a poem, only for the poem to remain. A paradox, where the presence endures through absent form and corporeal sounds, around subtracted words. 
Poetry has an ancient oral tradition, long before there were easily available means to inscribe it. Poetry was spoken, repeated, retold, passed along. My work emphasises the bodily and gestural aspects of performative poetry; the breaths, stutters, stumbles, coughs and gasps in between the words. When written these accidental intonations are presented as absence. In actuality the 'in between' is linguistic; it anticipates and responds to the words. The listener feels as if they are within an empty yet resonant and palpable conversation; they are about to hear and have heard. 
Wordless sound is highly affecting. In an essay by Teréz Vincze, she argues that sound is the sense which impacts humans most intimately and viscerally. Central to my work is the understanding that sound is ambiguous and inherent to the body and therefore accessible, recognisable and innate. Exactitude is crude. Text and numbers speak in fine lines and with clarity, they impose an existing and bounded form. It is rare that any feeling is so distinct. Furthermore lexicon is inhibited to a specific culture, whereas human sounds are universal; they transcend constructed systems of communication. Recent transcriptions of the poem in my work act to give form to corporeal noise and invite further renderings of sound. A visual form is used to create possibility rather than to define and inhibit. 
The use of multiple orators challenges the illusion that a poem is static. Pronunciation, pace, pitch, stresses and potential mistakes are all variables. Comparing different readers' spoken interpretations of a poem reveals its hidden ambiguity. My work often contrasts readings of my poem by my twin brothers; their genetic similarities give emphasis to the difference in the recorded performances. They negate the idea of a singular 'intended' reading. 
The conscious omission of words in my work could be seen as an act of redaction. Redaction is usually an obscuring addition to the original text, rather than a removal of its content. Contrastingly, in Form in Absence the process of screen printing has removed the physical presence of the words. Largely, only the obscuring marks remain. This draws focus to the poem's form and most crucially its gaps and pauses. The print therefore becomes a score for the audio piece. 
My work is no longer about the original poem, nor concealing it. The poem has shifted from being personally to collectively accessible. It does not invite the audience to discern the missing words, but to recognise and surround themselves in the materiality of absence. The work transposes the vocal, physical and indefinite aspects of performative poetry into a gallery setting.